CLICK-ON THE LIVE IT UP ICON BELOW TO VIEW MY 8 MINUTE TV INTERVIEW!
SCROLL-DOWN FOR MY BIOGRAPHY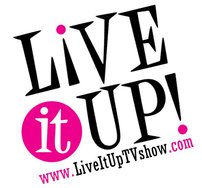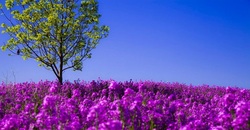 ---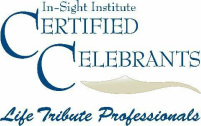 ---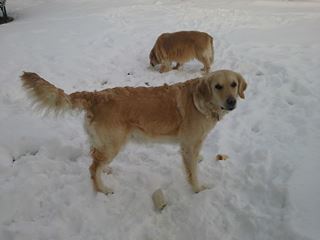 Emily TwoToo, Guide Dog Golden Retriever and active breeder, age 5; pictured in front of Emily Luna, Golden Retriever, age 9.

As an In-Sight Institute—Certified Celebrant, I am uniquely equipped to serve your family. I am a Life Tribute Specialist with almost 15 years of experience in public speaking, freelance writing, peer support counseling to infertility and pregnancy loss patients, as well as those suffering from cancer, chronic disease, grief and loss, for national and New York metro area allied health communities.

My professional commitment to Funeral Celebrant service is the culmination of my personal experience, as a recurrent pregnancy loss patient, and caregiver to my mother, during her journey into pancreatic cancer treatment and end-stage hospice care. I rediscovered and nurtured my writer's voice in the challenging health crises I have reclaimed as personal blessings in my thirst to understand why I was born into human form. I actually began with a self-soothing quote written nearly fourteen years ago, and eventually launching a spiritual awakenings poetry blog; I have moved on to include prayers for my tribute services—giving my clients an even more uniquely passionate glimpse into the spiritual connection I offer grieving families and friends.


My volunteer career was initially launched with Resolve: The National Infertility Association in January of 2000, and my most recent volunteer affiliations have been with the Lustgarten Foundation for Pancreatic Cancer Research, since July of 2009, and Visiting Nurse Service and Hospice of Suffolk, since October of 2012. I look forward to working with patients, families, and staff at the Hospice House in East Northport, on Friday evenings. In October of 2013 I became a breeder caregiver for the Guide Dog Foundation for the Blind. My husband and I, along with our two daughters, are fostering a Golden Retriever dam, while she breeds puppies for guide dog/service dog training. I am in the process of training and certifying her for therapy dog visits—to funeral homes and medical care facilities and beyond...

My ongoing passion is spiritual writing, and I am an aspiring author of personal memoirs and therapeutic poetry that will chronicle my personal journey into Secondary Infertility/Unexplained Recurrent Pregnancy Loss, caregiver support to a family member with a terminal illness/The Hospice Movement, and my unique insight into managing the Metabolic Syndrome health crisis.

Born into an Italian-American family and raised on Long Island, New York, I grew into adulthood with limited exposure to the Roman Catholic Church. In my mid twenties, I studied and converted to Judaism, marrying into a Jewish family from the island. I cherish the culturally diverse memories I have accumulated throughout my life, each contributing to my unique earthly footprint. I have always felt more spiritual than religious, and like many spiritually-evolving individuals, I have come to the realization that we are eternally spiritual beings having human experiences on Earth—in the vessels we are destined to, one day, return back to the Earth.

I grew-up singing in community choral societies and school choirs, as a first soprano. In my sophomore and junior year, I auditioned for the All-State performing group, as a soloist from Great Neck South Senior High School, in the New York State Music Association. In my early twenties, I was a paid church-soloist at a few wedding ceremonies, in addition to performing at family nuptials.