Let all who mourn the loss of your loved one feel the unique spirit of a life lived; with a memorable and distinguished heartfelt presentation.

DEDICATIONS FUNERALS LIVING TRIBUTES MEMORIALS OBITUARIES SCATTERINGS TESTIMONIALS UNVEILINGS




CLICK-ON THE LIVE IT UP ICON BELOW TO VIEW MY 8 MINUTE TV INTERVIEW!

Are you looking for a funeral officiant to memorialize your loved one, in a way that captures his or her living footprint?
Would you like everyone at the service to carry away a larger than life image, from a uniquely-crafted tribute that survives death?
Are you yearning for a funeral experience that reflects the way he or she lived and loved?
Would you be interested in a funeral officiant who includes family and friends as part of the services?
MY SERVICES INCLUDE AT NO ADDITIONAL COST
Ceremonial Singing
Keepsake Copy of the Service
Original Poetry and Prayers
Peer Support Grief Guidance
Unlimited Tribute Planning Contact

My personal philosophy, as a Life Tribute Specialist, is that each of us is blessed to possess an inner spirit. As a Certified Funeral Celebrant, I seek to pay the ultimate final tribute to a life lived, offering some measure of spiritual comfort to the families I serve. The Celebrant-led funeral or memorial service is the more spiritual alternative to the traditionally clergy-officiated service, and it is not unusual to gear the service around the sometimes untimely circumstances of the death, and channel the rituals into the unique spirit of the departed. Offering mourners a more personalized experience, I specifically highlight the values of the families I serve; without any pre-conceived religious beliefs.

Celebrant-officiated services are tributes to the deceased, in the style that grieving families define. As your Celebrant, it is my calling to be only a vessel for your vision. All too many people have regretted opting for a clergy member, after sitting through their dearly beloved's service--where a very obvious presentation of a "cookie cutter" service was made even more impersonal. In these situations, not only was the focus of the content less on the deceased than on the organized religion, but whatever was included was vague and obviously without genuine representation of the life who actually lived and loved. This realization comes after sitting through an In-Sight Institute Celebrant service. My services will include religious ritual and reference, when the family members request that I do so. Celebrant-officiated services highlight the unique personality of the deceased. I do not specifically seek to wash my services of any religious representation, but many of my families prefer not to project the ritual values of organized religion; they will want me only to highlight God in a more universal appeal.

I start with a blank template and the tribute naturally evolves into a vivid and moving image; a story that brings the spirit of your beloved back-to-life.

I firmly believe it is how we live that defines each of us, and a service and eulogy should reflect the aura and active contributions, humble or grand, each person has shared while he or she walked the Earth. Every life is precious and everyone is worth remembering beyond the "cookie cutter" funeral or memorial service.

Our time together will be one of sharing, of remembering, and of planning a service that honors the life of your loved one. I will work with the funeral director to see that music video tributes or other ceremonies are an integral part of the service, and will present a loving eulogy that represents your memories.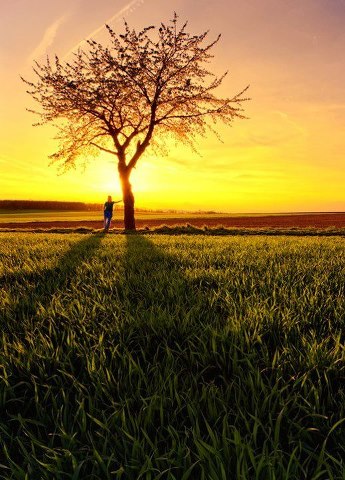 The Tree of Life is my unofficial logo for Everlasting Tributes; it symbolizes the family tree and the human connection to nature. This particular picture resonates with me, in that the human figure, standing next to the tree, virtually walks into the sunset of eternal life.